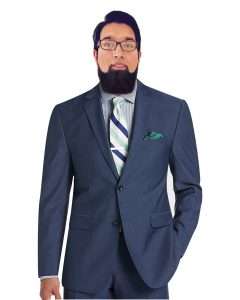 Our director Abdul Hafeez Siddique is an experienced, qualified Muslim Chaplain who studied at a traditional Islamic seminary in Bolton. He graduated from the seminary at the age of 17 making him, at the point of qualification, one of the youngest Imam's in Britain. The intensive seven-year programme of study has given him an in-depth understanding of Islamic theology, jurisprudence, history and a unique perspective on the fundamental working components that characterise British Islam. Post qualification,  Abdul serves as a Muslim Chaplain at HMP Wymott where he serves as an integral member of the Multi-faith Chaplaincy team. He provides pastoral support to members of all faiths and none, delivers sermons and religious classes to Muslims inmates and works with a number of agencies and partners within the secure estate contributing to the wellbeing of prisoners. Abdul also has over 7 years experience in University Chaplaincy accumulated at The University of Bolton where he has contributed to the delivery of a pioneering multi-faith chaplaincy course in 2009.
Abdul has a strong academic background in community cohesion and social capital research. After completing his undergraduate degree in this field, he was awarded a postgraduate scholarship by the Mariott Trust. Subsequently this  led him to become the first person in the Northwest to look in to how members of the South-Asian Muslim community in Bolton interpreted the terminology and lexicology surrounding community cohesion. He asked these difficult questions to marginalised members of the community. The research allowed Abdul to undertake an in-depth theoretical study of the evolution of the concept: community cohesion and his in-depth qualitative interviews formed the basis of his study that was supervised by Professor Carole Truman and Dr Margaret Boneham at the University of Bolton. This seminal study came to fruition in the form of a thesis submitted for the degree of Master of Philosophy (M.Phil) titled 'A critical analysis of Cantle's (2001) community cohesion model and its applicability to marginalised elements of Bolton's south-asian Muslim Community' that was awarded to him in 2011.The research found the cohort's dichotomy of superficial and grass roots interactions particularly interesting. The importance given to cross-generational discussion and the use of faith spaces as a public resource were also notable facets of alternative interactions. The cohort largely voiced a disconnect between the government's rhetoric and the reality on the ground. This was particularly articulated by the sample feeling that the government was relying on policy and legislation to heal deep-rooted community divisions and tensions. The unique access to this sample also proved a valuable representative barometer of the level of bonding social capital amongst the towns South-Asian population.
In addition, Abdul has over 10 years experience working with socially excluded immigrant BAME communities and their representatives in Bolton to promote community cohesion and build social capital. His involvement with the North Bolton Support Group, for instance, meant he co-ordinated Skills Funding Agency programme delivery, managed SLA's (service level agreements), facilitated advice and drop-in services, undertook BAME research, led major funding consortium applications and facilitated a dynamic range of social inclusion themed workshops across the borough.
In 2012 Abdul Undertook an MA in social work at The University of Manchester to further solidify his theoretical and practical knowledge of working to alleviate social issues, promote community cohesion and build social capital.
He is also a Director of The Flowhesion Academies Trust, working with a world class leadership team to deliver quality education services to young people with a particular emphasis on community service.
Abdul has  completed the prestigious, coveted streetwiseMBA leadership programme with common purpose UK in 2017.  Abdul delivers training, workshops, seminars and lectures in various capacities, across a range of arenas. He completed the Institute of Leadership and Management's (ILM:NB100010895311) intensive Leadership development programme. He also serves as vice-chair of  Lancashire Equality Organisation where he oversees the groups community cohesion based collaborations and strategic partnerships across Lancashire  .